| | | |
| --- | --- | --- |
| | | |
| | | |
| 2017 NLG LEC Delegation to Cuba | Tammy, Natasha and Dean speak | Visit to CDR |
The National Lawyers Guild Labor & Employment Committee serves as program consultant to Marazul Charters, a licensed travel service provider, on an annual research program in Cuba.  The program consists of an international conference and a professional research program.  Labor lawyers, trade unionists and neutrals have been a part of these delegations since 2000.  In the winter of each year, Marazul and the L&E Committee announce the annual program. 
The 2018 brochure is now available.   The application form and deposit of $200 are due February 15, 2018. 
The 2017 conference focused on the following topics:
Labor Rights in the 21st

century:

 its nature, its formulation.

Experiences in the coordination of actions to defend labor rights.  The Latin American Socio-labor Charter.

Labor reforms:  their impact on job stability and the protection of workers' rights and against various forms of discrimination in employment.

The working class, the union movement, and labor law in the 21st century.

The right to information and to the paricipation of workers in enterprise management.

Safety and health at work and occupational risk prevention.  Harmful substances in the workplace.

Self-employed and cooperative workers (production and services).
The Conference is endorsed by the NLG L&EC, the Labor Law Society of the National Union of Cuban Jurists (UNJC), the Central de Trabajadores de Cuba (CTC), the Brazilian Association of Labor Lawyers (ABAL), and the Association of Labor Lawyers of Argentina (AALA).

The Conference is preceded by a research project where, consistent with the conference themes, delegates visit Cuban workplaces and interview workers, union leaders and labor lawyers.  Upon return to the United States, the delegation publishes a report of the results of their research and conference participation.
The 2017 trip was in Cuba from March 4  to March 12, 2017.
(See photos here.)

Itinerary

Day 1 


Depart US and arrive Havana

Delegation briefing / orientation

Welcome event

Days 2 - 4

Bilateral Exchange and Research in Pinar de Rio

Days 5 - 7

Day 8

Day 9
Follow this link for Richard Renner's paper on the Uneven Web of Whistleblower Protections.

Click here for the 2018 brochure.  Click here for an application.  The application will need to be submitted along with a $200 deposit by tbd.
For the Fall 2017 NLG delegation, see the NLG's Cuba Subcommittee page.

If you would like to participate in the 2018 research program, you will need to send the  application  to Victoria Lebron of Marazul Charters. As soon as details are available, you will receive more information about the logistics of the trip from Victoria Lebron. 

We do not yet have a cost estimate for the program.  We will post cost information as soon as it is available.  The package will include:
Roundtrip airfare to Havana from Miami/Tamp

8 nights in centrally-located tourist-class hotels in Havana and province

In-country transporation

Breakfasts and some dinners

Translation and guide services

Conference registration
Cost - Below is cost for the 2014 conference to give you an idea. 

Click here for a scholarship application.  Click here for our letter about the scholarship program and requesting donations to make it possible for young people of color, with a commitment to labor and to the NLG L&EC, to participate in the delegation.  Donations may be made via PayPal button on our membership page -- please note this is for the research trip but DO NOT USE THE WORD CUBA or PayPal will hold up the donation.
FLIGHT (RT Miami to Havana):
$450 per person airfare - Airfare includes US departure tax and Cuban medical insurance during stay in Cuba.
PLEASE leave at least 5 hours between flights to Cuba and connecting flights in and out of Miami

VISA:
$75 per person (not applicable to participants born in Cuba)
$25 per person for packet delivery
LAND ARANGEMENTS:
$1,585 per person - double room and $1,675 per person - single room (if under 18 participants) - incl
$1,370 per person - double room and $1,480 per person - single room (if 18 or over participants)

Group Transfers and bus transportation for the program
Bilingual guide
Program (ICAP/AMISTUR & UNJC)
Accreditation fee for the conference
Welcome and farewell dinners in Havana
Lodging is at Hotel Colina, 501 Calle L e/27 y Jovellar, Vedado, Cuba Phone (537) 83-64071
Lodging includes breakfast

LAND cost also includes a small subsidy to provide scholarships for people who would otherwise be unable to participate, with priority for people of color.  Contact Victoria Lebron for scholarship application.
Click here to download the brochure and click here  to download an application.  By February 15, 2018, send your $200 deposit, payable to Marazul Charters Inc., and the application to Victoria Lebron at Marazul Charters Inc., 1 Marine Plaza Suite 302, North Bergen, NJ 07047. 
QUESTIONS:
Please contact Victoria Lebron of Marazul Charters for travel questions at  vlebron@marazul.com or (800) 223-5334 or (201) 319-1054 ext 16.  Please contact Joan Hill or Dean Hubbard for program questions. 


Past Research Reports of NLG delegations to Cuba
Travel Restrictions to Cuba - click here for a handout on Travel Advice
Because the NLG Labor & Employment Committee's research trip is for and by professionals engaged in a full schedule of academic and noncommercial research, intended for public dissemination, U.S. labor and employment lawyers and trade union professionals may travel to Cuba under a general license (no advance authorization from the Treasury Dept. required).
For more information on Professional Research and Meetings,

click here

 to access the Office of Foreign Assets Control.

Click here

for 31 CFR § 515.564 Professional research and professional meetings in Cuba.

See sub-section A for the General License which is used for this annual meeting.
| | | | |
| --- | --- | --- | --- |
| | | | |

In 2010, another group of trade unionists visited Cuba, also in the desire to understand the realities of workers in Cuba and the role that trade unions play in protecting worker rights.  Over the years, it has become apparent that the trade embargo imposed by the U.S. Government has had significant impact on residents of Cuba.  Journalist Mark Gruenberg of Press Associates International writes of a recent presentation made by two Cuba travelers and researchers to a
group of Newspaper Guild members in the DC-Baltimore area.  Click here for the full article.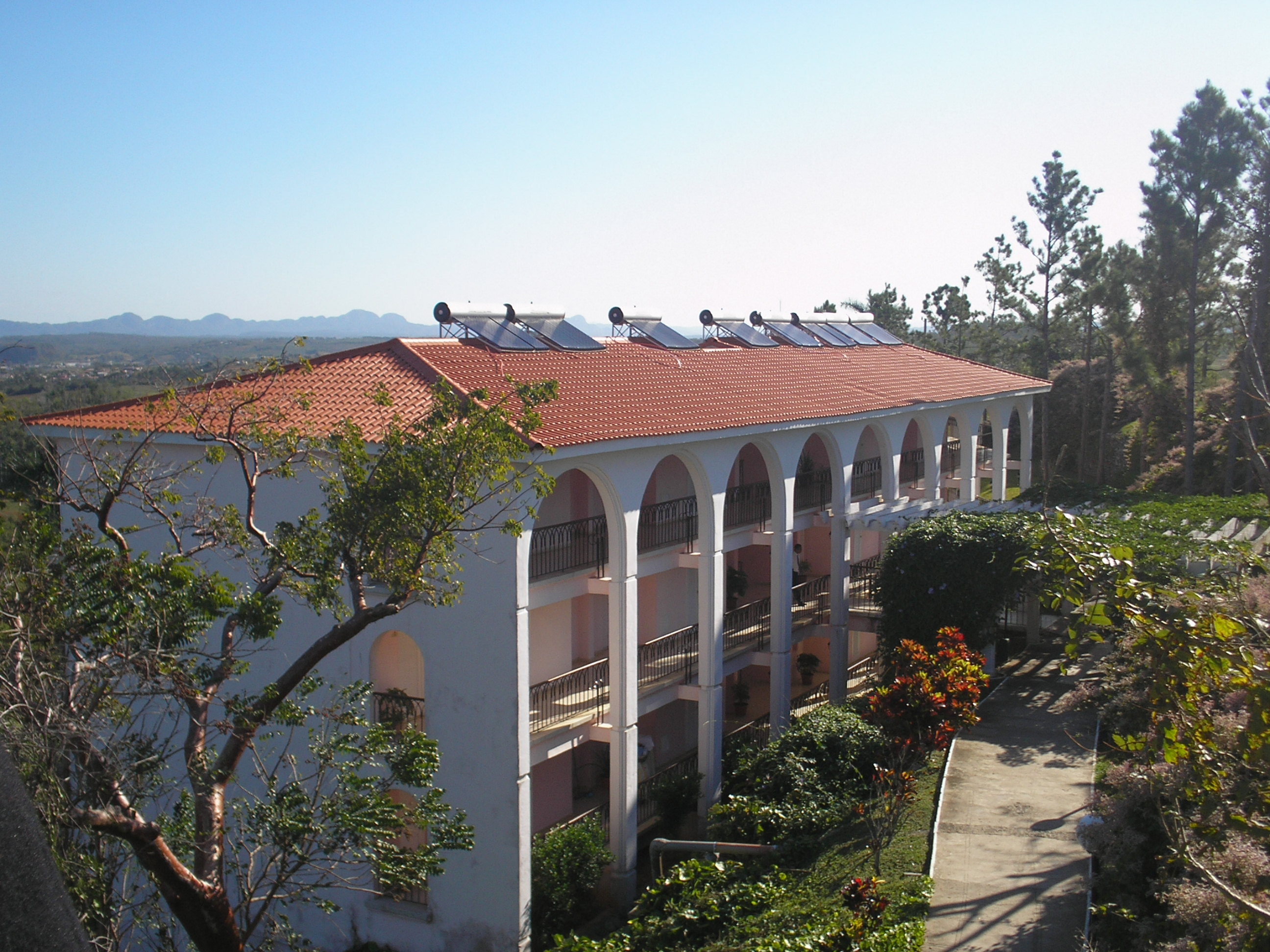 This photo features a building in Cuba equipped with solar panels as part of the 'year of energy.'